Tip of the Day
March 23, 2013 in BLOG by admin

The hubs and I made a rule – last one out of bed in the morning makes the bed. Who makes the bed at your house?
Always keep a zip lock bag (I fold a quart-sized one) tucked in your purse. Perfect for candy wrappers, a wet diaper, whatever.
Instead of hanging your clothes, stack them on shelves in the closet. Keep them tidy using shelf dividers. Are you a "hanger" or a "stacker"?
Throw the measuring cup from liquid laundry detergent into the washing machine with your laundry. No more dripping detergent to clean up.
Have you planted your seeds yet? Recycle your toilet paper tubes. Fill 'em with dirt, and plunk your seeds in. When they're ready to go outside, you can plant the whole thing in the ground. Cool, huh?
A simple combination of baking soda, vinegar and warm water can clean your glass stove top like a champ!
Hang your curtains on swing arm rods. During the day, swing the arms out and your windows look bigger. At night, swing them closed. Cool-looking and efficient.
Freeze your soup in muffin tins. Perfect individual portions for lunches!
Use mayonnaise to get water spots off of furniture.
Put a tray of polished rocks by your door for wet boots or soggy shoes. It looks pretty and eliminates puddles on your floor.
Turn your toaster sideways to make grilled cheese sandwiches – just don't put your cheese all the way to the edges of the bread.
Secure Command Strips inside the cupboard doors underneath your sink. You can hang towels, dusters and scrub brushes.
Instead of helium, fill your balloons with vinegar and baking soda. Just don't play that "inhale it and talk like Donald Duck" game.
Quit digging for the end of the tape. Roll the end around a toothpick. BOOM!
Keep your spring tulips from drooping by putting a penny (or two) in the vase with the water. It perks 'em right up.
This is our favorite new discovery. Can't believe we haven't seen it before. We love the no mess of cooking bacon in the oven – Cover a cookie sheet with tinfoil (or parchment paper). Slap down some bacon, bake at 375 for about 20 min. No grease splatters, and quick clean up. Love!
Clean your shower while you're taking one. Scrub it down then go about your daily ritual. You can even do a once-over while waiting that 2 minutes for your conditioner to set. Is this how you do it?
Place a chalkboard, white board or even a notepad near the door you most enter and exit through. Write yourself notes of things you need and things not to forget. That way, you can take a quick glance on your way out the door.
Roll up a magazine and place it in your boots to keep them standing up. You can also use paper towel rolls or foam noodles from the pool toy section.
Need to hang a picture but can't figure out those ridiculous alligator teeth things with the teeny nails? Screw a soda can tab on the back of the frame and you're golden!
Extremely important information to commit to memory. Who knew?
Turn bookcases into lockers so all your crap doesn't collect in the doorways and make you crazy.
In a rush from the gym to somewhere you need to appear presentable? Use a round brush and a hair dryer on your sweaty head to create volume. Pretty brill, right?
Use a spring-loaded shower curtain rod against the back wall of your bathtub. Hang wire baskets from shower curtain hooks to store all the drippy bath toys.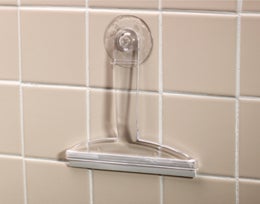 Hang a spray bottle of bathroom cleaner and a squeegee from your shower caddy. Spray it down right before you get in, then squeegee it off before you get out.
Lightly spray Pam on wet nails for a smudge-proof look (and quick dry).
Lean over the toilet when cutting your bangs. I'm a self-cutter (Tawsha) and it avoids any and all messes. Just flush when you're done. Word of warning: If you aren't alone when you're cutting your bangs over the toilet, let the people in your house know what you're doing. It doesn't look good when someone just walks in. Trust me.
Use a rubberband to remove a stripped screw.
Use a banana to fix a CD. Has anyone tried other ways to get scratches out?
To avoid deodorant marks on your little black dress (or any sleeveless), tuck a kleenex tissue into your sleeve area. Half should be tucked by your side and the other half hanging out. This will protect your clothing from deodorant marks while you're getting ready. Don't forget to take them out before you leave, though.
If you are traveling, avoid any spillage of the ol' toiletries by unscrewing the top, placing plastic over the opening and then screwing the lid back on tight. No mess. Why does this sound so dirty to me?
I love this idea to use a tackle box to keep first aid stuff all organized. I hate it when I'm running around frantic looking for a band-aid. Photo credit: Abide With Me
Attach a net to the inside of the dryer door to put your tennis shoes in so they don't bang around in the dryer.
Store cleaning supplies in each room you should frequently clean. This will help to avoid procrastination and provide a quick & easy scrub down opportunity.
When there's a great sale on an item you love, buy a few extras and tuck them away for those times when an unexpected gift is needed. This will save you A LOT of time and money. Think: Housewarming, birthday, thank you, hostess gift, etc.
Clean out your refrigerator before you grocery shop.
You can actually use some paint brushes for your makeup. There are a TON of options for so much less money.
Put a box or basket at both the top and bottom of the stairs. Family Rule: If something's in the basket, don't go down (or up) without taking it with you and emptying it. Disregard this tip if stair climbing is your chosen form of daily exercise.
Put a little deodorant on your inner-thighs if you're not of the thin variety (hi, that's us).
If you store your purses on a shelf, to keep them from falling over and flattening out, stuff them with tissue paper so they stand upright.
Store a couple extra liners underneath the current liner in your trash cans. When you pull the trash bag out, you've always got a replacement handy.
When you take something off a hanger, grab the empty and stick it at the end of the rod. On laundry day, the empties will all be in one place and you won't have to go digging.
Use a melon baller to core apples. I LOVE me some giant apples. Say that while holding your tongue (thank you 5th grade).
Don't throw your old used up candles away. Freeze them, pop the wax out, microwave it and pour it into ice cube trays. That wax is still scented. Use the wax cubes in your electric candle burners.
Storing your makeup brushes in coffee beans keeps them upright. It also makes your room smell like "good morning!
Have you tried using a window squeegee to remove pet hair from your carpets and furniture? Works like a champ!
Print off this kitchen measurement conversion chart and tack it inside your pantry or cabinet door.
Related Posts: